Ab

i is wisely using her nine lives to stay in the game for as long as she can, even when I do think her time was long up. Last week, she bought an advantage that helped her win the immunity challenge (they might as well handed her the immunity necklace, right?) and this week was all eyes on her as many would probably agree that it would take a conniving effort from the Survivor gods to let her win two back-to-back immunity challenges! Heck, Malcolm hasn't won immunity up to this point, much less Abi win two in a row. But who knows, Survivor is a crazy game and like the oft used phrase goes, "anything can happen".
Image: CBS
This episode is probably the most predictable ending we've seen in a long time, probably since the merge. The four-person alliance of Malcolm, Denise, Mike, and Lisa shook hands and vowed to stick to the end. Hence, there are two people clearly on the outs of that alliance – Abi and Carter.
Oddly enough, the two odd ones were polarizing versions of each other. On one end, there is Carter. He hasn't spoken much, or the editing hasn't given him that much airtime, but he has proven himself to be a beast in the challenges. He is the top bloke, for sure, winning two individual immunity challenges post-merge and being one of the contenders even for those instances that he did not win (case in point: the latest immunity challenge, but more on that later).
On the other hand, there is Abi. From her own words, she is the most disliked person on the island. There are as many reasons to vote her off though morale at camp seems to be the biggest factor as her negativity is weighing everybody down. We can go back to the discussion about whether it is a cultural thing or not, but can anyone really figure out Abi?
A few minutes into the episode, we see that it's now time for the reward challenge. And this is the most anticipated part of the game for most of the castaways as their loved ones get to pay them a visit. Not gonna lie – tears were welling up the side of my eyes as I was watching one loved one to another come rushing to meet the castaways at the mat. It's been more or less 31 days that they had been living on the island and the sight of a familiar face is truly something that could lift up the spirits.
However, Lisa's breakdown at the sight of her brother Justice is probably the most dramatic and over-the-top we've seen to date, as Jeff pointed out. But she is also the one whom we've seen had that much struggle (internally) in the game and probably the idea of being with someone who she completely trusted devoid of the game mentality was what she needed most at that time.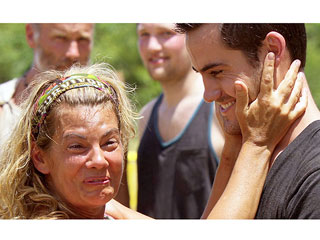 Image: People.com
When Malcolm picked Skupin and Lisa to win the reward and have their loved ones stay at camp overnight, I quickly understood the reasoning behind his decision. He also explained it on his confessional, wherein he claim to have strategically chosen both Lisa and Skupin's loved ones in an effort to solidify their alliance. These two could have flipped in the previous tribal council and Denise would have gone home. However, Malcolm decides to keep their loyalty by incentivizing them at that reward challenge, which allows them to get to spend more time with their loved ones. It was a good strategy for their alliance because he had nothing to gain by taking either Abi or Carter's loved ones for the reward. At the same time, I believe that Denise is mature enough to

keep her head in the game and not fault Malcolm for not picking her for that reward.
Taking Lisa and Skupin's loved ones did not turn out to be as beneficial as it was supposed to be for Malcolm, though. Malcolm posted a tweet this week,

which reads:
I voted Lisa's brother for the Sprint Player of the Week and was entered for a chance to win $10,000
I think that this funny tweet actually speaks a lot about Lisa's game moving forward. Her brother, Justice, truly gave her some intel about strategies that she can use in the game, if she wanted to gain a step ahead, with Malcolm or Denise clearly being the biggest threats to win the game at this point. But one thing I can't stand is Lisa and her confessionals. Her lamenting the struggles of trying to play the game and separating herself from that strategy is getting more and more lame by the week, so much so that she is starting to wear on me - negatively. She is so good at repeating herself, which gets on my nerves. She always talks about making a big move yet she can't take that guilt off of her voice. Then, she turns around and talks about doing what God wants. I listened to Carter's exit interview with Rob Cesternino on his podcast this week and I think he couldn't have said it any better. Lisa (and Skupin) is trying to use that as her defense mechanism for lying and trying to play a cunning game. Stand up for your game, already! If you c

ame out here to play, then play. Don't try to rub your beliefs on us in the hopes of trying to look less evil, so to speak. It's a freaking game!
Image: CBS
The ironic thing about that is the moment Lisa was ready to take the big move, Malcolm wins his first immunity. It was a close one. My heart was pounding more than it had on Episode 8 when Malcolm chose not to play his hidden immunity idol at tribal. While Jeff was putting on his necklace, Malcolm said "Took long enough". This win could not have come at a better time! Oh, poor Lisa with her spoiled plan

. Now back to playing nice!
Not exactly though. She starts to butt heads again with Abi. And the Brazilian spice is trying to play up to Lisa's weakness - her morals. But Lisa claims that she's done playing nice

with her.
And now the rest of the tribe are forced to confront a dilemma, which on the surface isn't really much of a dilemma. Here is Abi who has no immunity necklace and no idol in her pocket

-

apparently no one buys her claim of the fourth hidden immunity idol- looks like a default option, right? After all, they were so thrilled to vote her out if only she did not win the

immunity last week, she would've been part of the jury.

But the four-person alliance has cooked up a plan. Malcolm probably best describes the dilemma that they are facing. Walking to tribal, we hear Malcolm say my favorite quote of the night:




"I'm considering making a really bad strategic decision just for, like, my morale. That's how terrible of a human being Abi is. Plain and simple – if Abi goes home tonight, it's because she's a bitch."
Image: CBS
The decision to vote off Carter does not sit well with me, solely for the reason that I've dreamed of seeing Abi's torch snuffed a long time ago. She still hasn't learned her lesson after being beat down three tribal councils ago. And yet, it makes a lot of sense to keep her after this tribal council because there is still one more vote to go until the Final Four. The alliance surely wanted to stay tight and the threat posed by Carter for the next immunity challenge is no doubt working against their favor at this point. Both Denise and Malcolm has exemplified a stone cold approach at playing this game so far - they are both able to keep a level headed approach to the game, taking their emotions out of every situation. I am disappointed that Abi is still there but I understand the vote and support it. It was too risky to keep Carter because that would have only fueled him to win the next immunity challenge given that he is the odd man out

and it is the only thing standing between him making it to the final four.
With the cover blown on Abi's spiel about the fourth hidden immunity idol, she's doomed next week. If not, it is going to be a paltry ending to what had been a good season.