In 26 seasons, there had been plenty of Survivor hunks that have graced the show. I, myself, am not going to deny the fact that I fell for these Survivor hunks and often picked the young, hot guys as my bets on the show (no wonder I haven't had my pick win the whole thing until Denise came along). Seriously, though, I felt that if Malcolm had gone all the way that he would've won the Philippines. Ha! Okay, that is a case for another blog post. I am here to present to you 10 of my favorite hunks of all time.

I just want to make it clear right off the bat that except for maybe the Top 3, this list is done in random. It's difficult to create a chronological list because there is no such thing as a definitive list of requirements for making it here. Of course, the physical aspect is the most obvious, but that isn't my sole criteria for including the men on this list. I also take into account their competitiveness in challenges (major plus points!!), strategic gameplay, and social charm. See we have the same picks...
10. Gabriel Cade

I know, I know. Most of you would probably be surprised to see me pick him and even include Gabe in this list (especially in a season that featured Boston Rob for the first time). But his curly blond hair, athleticism in challenges and nerdy demeanor appealed to me. He is no doubt a favorite of mine from Rotu - the moment they voted him off, Rotu self-destructed. Thank you John Caroll for that! Sarcasm aside, his charm is undeniable and he has a positive attitude about him that I'm sure made him a favorite among girls, too.

9. Jed Hildebrand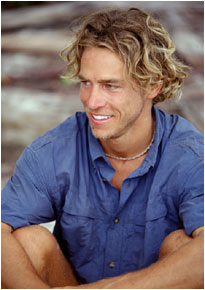 Another surprising entry, Jed is the soft spoken and athletic guy from Sook Jai who got voted off early because he just did not click with his tribe. He was amazing in challenges, though, even managing to help give Sook Jai it's first team immunity win in Thailand after he overtook Ghandia in the slide puzzle stage of the competition. He was also smart but his lack of social adaptability ended up being his downfall.
8.
Ben Henry
Not a big fan of this season. In my opinion, it was one of the worst. Two quitters. Sucky medallion of power twist. And, young vs old? Seriously? Thankfully, Benry was there to give me some consolation.
7. Brendan Synnott
There is nothing more attractive than a man who is confident in his own skin. Brendan is clearly a self-made man, accomplished in real life. Thus, him coming into Survivor makes him even more attractive in my eyes because it is indicative of his competitive and adventurous nature going into Survivor knowing that he clearly does not need the money. But if not for an alliance blunder, I could definitely have seen Brendan as a huge threat to go far in, or even win, the game (with the right set of people by his side). Too bad. Still hoping to see him play again.

6. Edgardo Rivera

Edgardo caught my eye in Fiji, which I thought was one of the most underrated seasons overshadowed by a ridiculous twist to the game. Nonetheless, Edgardo has been one of my favorite hunks to appear on the show. And yet, the best thing about him is that he isn't just about the looks - he also got some brains. I also believe that his was one of the best blindsides the game has ever seen! It was very well played though I would be lying if I said that I was not slightly mad that it came at the expense of Edgardo.

5. Jay Byars
Do I need to explain myself? Save for his annoying voice, Jay was clearly the hottest male in his season. He was also a strong competitor in challenges and even ended up winning one immunity challenge that featured probably the most difficult puzzle I've ever seen on the show!
4. Colby Donaldson


To be clear, Colby slid down my list after consistently holding the number two spot for a long time because his past few appearances in Survivor has been less than stellar. But his good looks and Southern charm are undeniable.


3. John Kenney

Sure, Vanuatu was one of those regarded as a forgettable season, yet it also has some of the hottest men that Survivor has seen. Take John Kenney for instance. I could watch the first half of this season for John K alone. He was the youngest of their tribe, all men, but it was an unfortunate twist in the game for him considering that the older men got intimidated by their looks and athleticism that they ended up forging an alliance to take out the younger men one by one. A twist saved John K's butt, albeit only momentarily, because he stayed on for a bit longer but did not make it to the merge. The season basically ended for me right there, too. Sniff sniff.
2. Malcolm Freberg
I can't believe it took 25 seasons for someone like Malcolm to come onto the show. But it is totally worth the wait. Malcolm is almost the symbol of the perfect Survivor player = physically competitive, great at puzzles, smart and strategic, and a social charmer. Indeed, he is the complete package! But for me, the best thing about Malcolm is his million dollar smile and of course his iconic long locks! No one can pull off this look but him. And that is primarily what sets him apart! Only he has managed to bump Colby and John K off of the top two spots on my list.


1. Bobby Jon Drinkard

Despite all of the new hotties that have invaded the Survivor screen in recent years, Bobby Jon Drinkard has remained firm on the top of my list. If you're asking why, you HAVE to be blind not to see. He first captured my heart in Palau wherein his dysfunctional Ulong tribe went through some of the worst adversities in Survivor history (only to be outdone by Matsing 15 seasons later). But despite of it all, he managed to handle himself with grace, give his 200% at every challenge, and being the true blue Southern gentleman that he is. When Palau ended, I was in denial. I still could not fathom the thought of watching Survivor without Bobby Jon. Then, Guatemala premiered and it was revealed that he was returning with Stephenie. It was the best moment of my life. He needed that redemption. And even though he hadn't won, and I felt that he was so soft natured to excel in this cutthroat game, I'm sure he has won over the hearts of many, not just me.
Check back again as I will be coming up with another list, this time with the Survivor female castaways!